Social Circle Restaurant & Lounge in Columbus Polaris
Social Circle, our contemporary bistro, offers a casual gathering and dining area that serves a hot breakfast buffet and tasty dinner menu. It also features a full-service bar and a barista bar. Go ahead and indulge in a variety of specialty items, including healthy and organic entrees. We even offer delightful Cheesecake Factory desserts!
Throughout the day, our convenient barista bar serves specialty coffees. In addition, Refill, our 24-hour sundry store, has Grab-N-Go gourmet salads and sandwiches, energy drinks, organic snacks and much more. Don't feel like leaving the comfort of your room? We offer room service as well.
Menus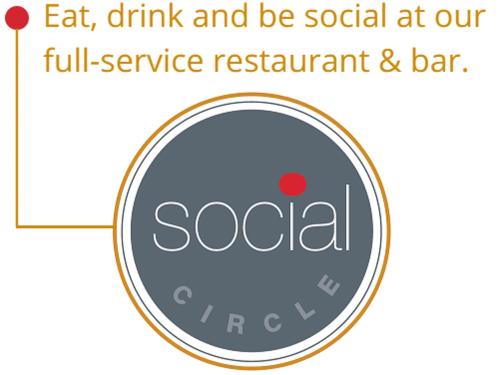 Hours of Operation:
Breakfast: Mon thru Fri 6:00 AM to 9:00 AM | Sat thru Sun 7:00 AM to 11:00 AM
Reflect Dining: 5:00 PM to 11:00 PM
Bar Service: 5:00 PM to Midnight
Barista Coffee Bar: 24 Hours
Refill & Grab N Go Case: 24 Hours
Room Service: Available during service hours.
Additional Dining Options

Room Service:
Enjoy any of the items from the Reflect Menu right in your room. Just call the front desk to place an order.
Banquets and Meetings:
Click here to learn more about our banquet services.